How to Make Your Kitchen Look More Expensive
One of the ways to make your kitchen look more expensive is to add a focal point. This can be anything from an art piece to an attractive glassware set. This will elevate other items in the room. For example, you could put a beautiful framed painting in the kitchen, or you could replace the cabinet hardware.
Keeping the walls, floor and cabinets neutral
If you are looking to create a luxurious kitchen, keep the walls, floors and cabinets neutral. While bold, daring designs are great for a modern look, neutral tones are more relaxing. For instance, using a classic white cabinetry design or a honey oak island can add a hint of elegance. Smart placement of different components will also add warmth and coziness to your kitchen.
While many homeowners will go with a white kitchen, you can also use a cream-colored cabinetry to soften the harsh look. Grey can also be a great contrasting color to cream-colored cabinets. Grey is a cool color with various undertones, from blue to cool, making it ideal for kitchens.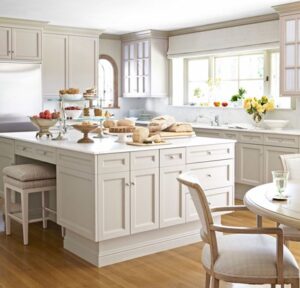 If you want to add color, use it sparingly, and don't make your entire kitchen look like a showplace. A bright accent wall makes your kitchen appear more spacious and interesting. Another way to introduce color is to paint one wall in a deeper shade than the rest. The deeper shade will recede into the background and enlarge the space.
Choosing a color palette is a crucial decision. A richly-colored kitchen can make the kitchen look expensive, but too much color can distract the eye from the rich materials in the space. If you choose a neutral color palette, you can make these elements stand out. For example, dark gray cabinets can complement shiny silver appliances.
Adding a piece of framed art
Adding framed art to a kitchen is one way to make it look expensive. You can use an original piece of art or purchase pre-loved framed art. Original pieces are great because they add character and a special touch to the decor. Choosing framed art that fits the size of the wall is also helpful. If you can't find an expensive piece, try creating your own at home using inexpensive supplies. Local craft stores can provide you with all the supplies you need to create a custom piece.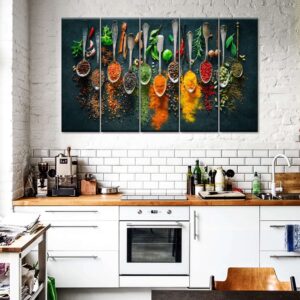 If you're worried about spending money, try painting or framing some of your own art. You can also use the artwork that your kids have created or buy prints from a thrift store. You can also add lamps to the counters to create an ambiance that will make the space look more designer. Art doesn't have to be on the counter – you can hang it on a wall or place it on a shelf instead.
To make a kitchen look more expensive, you need to have a focal point in the room. This will help elevate everything else. A piece of art or beautiful glassware can be a great focal point.
Replacing cabinet hardware
Replacing cabinet hardware can give a kitchen a dramatic makeover without costing a lot of money. Often, homeowners treat cabinet hardware like a gimmick, but in actuality, it can have a major impact on the overall look of the room. Replacing outdated hardware won't make your cabinets look brand new, but it can add a dramatic upgrade to the overall design.
However, there are many factors to consider when choosing new cabinet hardware. For starters, the aesthetics are important, but you should also consider the cost. Adding ornate hardware can raise the cost of your cabinet hardware project. Depending on your budget, you can spend anywhere from $1 to $200 for one handle. Another cost-effective option is to purchase novelty hardware. This type of hardware features fun designs, shapes, memorable textures, and animal figures. These novelty items are available in many materials and can cost anywhere from $10 to $200+.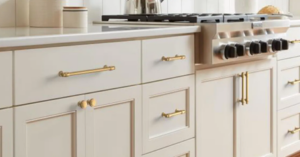 You can replace the hardware on your cabinets yourself or hire a professional. Some cabinet hardware contractors charge by the hour and the number of handles. A standard job takes about three hours to complete. If you choose to hire a contractor, plan on spending several thousand dollars on the project. Since the cost of kitchen cabinets won't be reducing anytime soon, it's important to plan for a large budget to ensure a quality kitchen.
Choosing the right cabinet hardware can have a huge impact on the look of your kitchen. It can give the room a new vigor and add to the overall value of the home. The downside is that replacing cabinet hardware can be expensive. If you have a $5,000 budget, you can afford to get custom hardware or higher-quality materials for your cabinets.
Adding a small kitchen lamp
Adding a small kitchen lamp can make a huge difference in the look of a kitchen. The right lighting can instantly change the ambiance of the room and help a kitchen appear more expensive. Some of the best ways to add lighting to your kitchen include adding a statement pendant shade or a filament light bulb.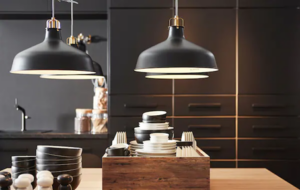 A small kitchen lamp can also be used to illuminate the countertops and add ambiance. Adding a small kitchen lamp can also be a cost-effective way to make the space appear larger and more expensive. You can purchase a small kitchen lamp from a retailer like IKEA or buy a stylish light from an online shop. Small kitchen lamps will also add style and ambiance to your counters and make the room feel more luxurious. You don't have to place a lamp directly on the counter but you can place it on a shelf or hang it on a wall.
If your kitchen is ill-lit, adding a small kitchen lamp will help make it look brighter. You can also use bold cabinet colors to give the room a new look.
Adding a wine cabinet
Adding a wine cabinet to your kitchen is a great way to add a hint of luxury to your room. It's not difficult to do. The basic materials you'll need are two 1x4s the length of your under-cabinet bay and a strip of 3/4-inch plywood eight inches wide.
You can add a wine cabinet to any existing kitchen design. You can have it custom-built so it blends in with the rest of the kitchen's cabinetry, or you can opt for a stand-alone unit. You'll want a wine fridge that can hold plenty of bottles. Most of these units have a door that opens for easy access. They're also great for displaying your collection of wine and stemware.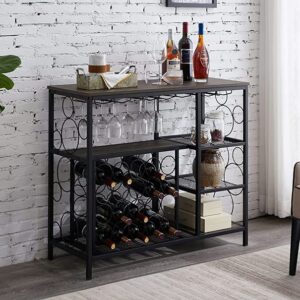 You can also install a wine rack in a wall. This will seamlessly integrate with the rest of your decor. In addition to wall-mounted units, you can also opt for a wine rack that is installed in a blank space between cabinets. You can also go for a wine rack with pull-out drawers. These will save space in your cabinets, keep your wine accessible and protect it from dust and sunlight. Another great idea is to use your existing bar as a wine storage unit. Adding a wine glass holder and a few wine racks can make it look more elegant and sophisticated.
Adding a wine cabinet is an excellent way to maximize the space in your kitchen. While it can be an extra expense, it is worth the investment. This piece of furniture will make your kitchen look luxurious and expensive.
As Bullrun Kitchen and Bath, we are committed to making you a modern kitchen owner.With our kitchen remodeling Woodbridge service, you can have a modern kitchen.You can get detailed information by contacting us.